The Toledo Society is a local chapter of the Archaeological Institute of America.
Its mission is to celebrate the ancient world by providing the people of
Toledo and the Northwest Ohio region with free lectures on
archaeology and ancient art by noted scholars in the field.
Due to the coronavirus pandemic, the AIA-Toledo Society is offering all its 2020-2021 lectures online in a live webinar format. No special equipment or software is needed, but first-time users of the Cisco Webex service will have to download an app from Cisco. Attendees need only click on a web link to view a lecture. If you need the app, you will first be directed to do this by clicking on the indicated button. A webinar link will be posted before each lecture and will become active 20 minutes prior to the lecture starting time. See the 2020-2021 lecture program link below for information, including a webinar link, on each lecture.
For information on the AIA-Toledo Society's 2020-2021 lecture program click here.
For information on the history and purpose of the AIA-Toledo Society click here.
For information on the national AIA organization go to http:www.archaeological.org.
To become a member of the AIA-Toledo Society click here.
For more information on the Toledo Society and its lecture program, or for comments on this website contact:
James A. Harrell, AIA-Toledo Society Trustee-at-Large
(phone: 419-530-2193; e-mail: james.harrell@utoledo.edu)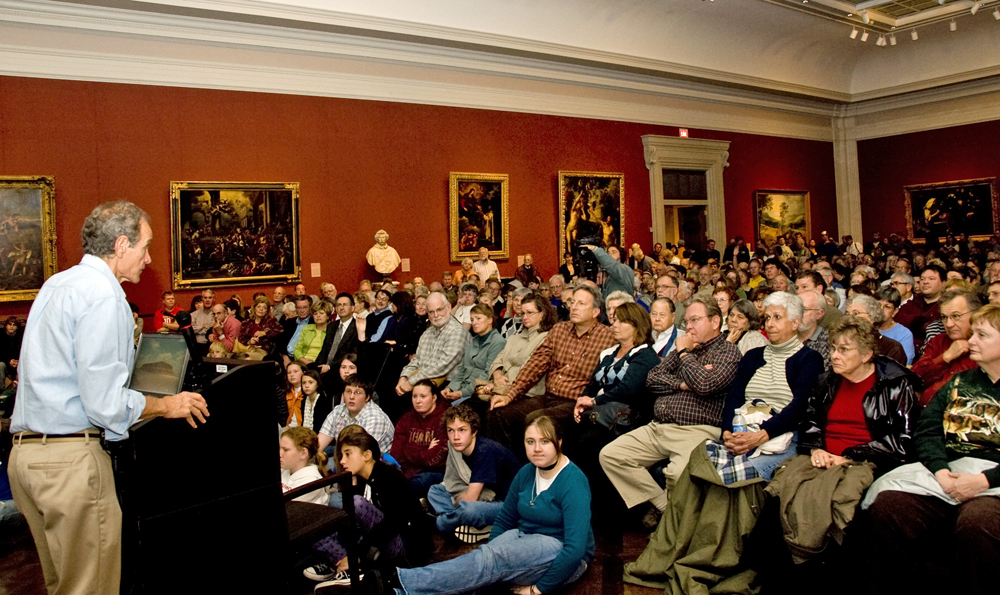 AIA-Toledo Society lecturer Bob Brier speaking at the Toledo Museum of Art on October 9, 2009